About Kel Winser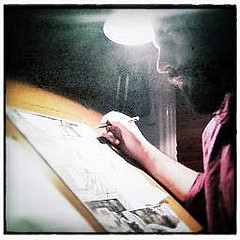 Kel Winser, an illustrator based in Norfolk, UK,

Whether you call me an artist, illustrator, cartoonist or lay-about, what I do most of all is draw. I am always drawing. In a cafe, at my job, in my studio and in the end turn my drawings into cartoons and comics. I love telling stories and I am currently working on my epic tale SIDEKICK among many other projects. 

I can always stop and draw for you too...I am available for hire as an illustrator, but I can also work on your comic book projects as artist, colourist or letterer.

I love to experiment with all sorts of media from pencil, watercolour, gouache, acrylics and inks to the use of digital media to create my images. I am proficient in Adobe Photoshop, Illustrator and InDesign.

Please contact kel@kelwinser.com if you are interested in working with me.

Previous clients include: Dragon Hall, Norwich / Petrie Museum of Egyptian Archeology, University College London / London Metropolitan University Press / Evesound Music, Suffolk / Cavity Protection Systems, Farnham / Medical Aid for Palestine c/o TWCAT, Brighton / Candy or Medicine Comics, USA / Accent UK Comics / Kall Kwik, Portsmouth / Suffolk County Council / Arts Picturehouse Cinema, Cambridge / Private Commissions 

I hope you enjoy my online portfolio but please do note I hold the copyright to all images on here. To use any of them for your own purposes, please ask permission...thanks!!